Chicken Sausage Peppers Recipes Easy Dinner Ideas– I know we all have some version of sausage and peepers, but this one is easy to make, the sausage remains juicy and it's on the Healthy Side…WIN WIN WIN!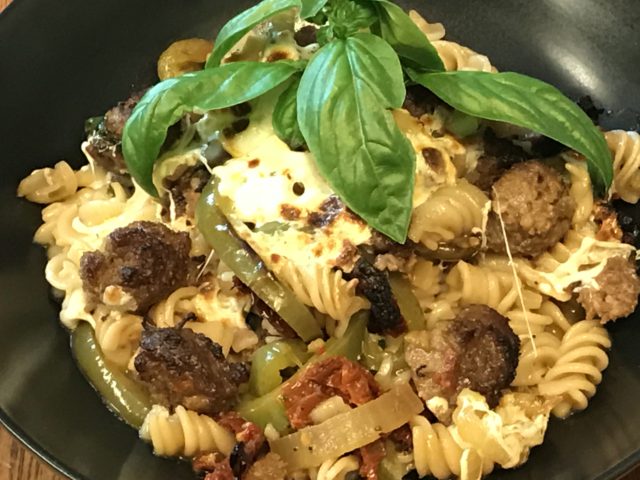 Sausage and peppers is a dish in Italian-American cuisine prepared using Italian sausage bell peppers as primary ingredients. Usually served on its own, sometimes with the use of additional ingredients such as tomato sauce, onions and pasta, and sometimes as sandwich. Everyone loves a good sausage and peppers, and this recipe is no exception. Chicken Sausage, Light Sauce, and Rice Fusilli Pasta makes this recipe stand out among the best.
Chicken Sausage Peppers Recipes Easy Dinner Ideas
Ingredients:
1 Lb Chicken Sausage
1 Cup Sliced Onion
1 Cup Sliced Bell Pepper
4 Garlic Cloves fine sliced
1/2 Cup White Wine
1 Tbsp Sun Dried Tomatoes
2 Tbsp Kalamata Olives
3/4 Cup Chicken Stock
3 Tbsp Fresh Chopped Basil
3 Tablespoons Avocado Oil
Sea Salt & Pepper to taste
8 oz Brown Rice Fusilli Pasta
1/2 Cup Diced Buffalo Mozzarella Cheese
Here's what Cha do!
Chicken Sausage & Peppers Healthy Recipes Dinner Ideas
Heat Deep walled saute pan – Med High with 3 Tbsp Avocado Oil
Brown 1 Lb Chicken Sausage
Add Onions, Bell Peppers and Garlic – saute' for a few minutes
De-glaze with White Wine and add Sun Dried Tomatoes, Chicken Stock, Kalamata Olives, Basil, Salt & Pepper – turn down heat and simmer for 10 minutes
Add Cooked Brown Rice Fusilli Pasta and Buffalo Mozzarella Cheese
Broil until cheese is melted and golden brown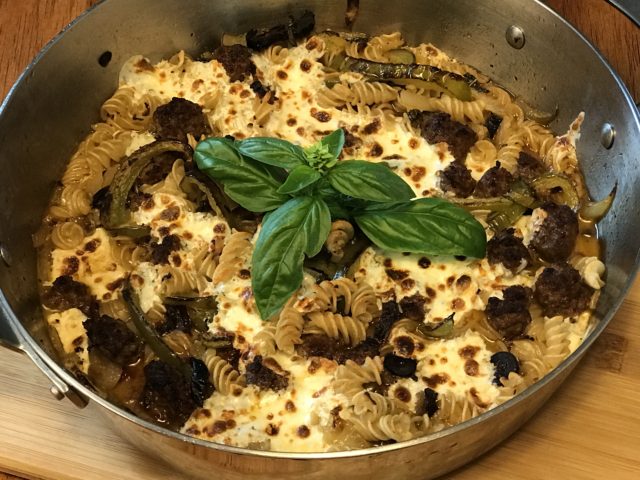 Serve Family Style and "Mangiare"
Chef Reilly's F.A.S.T. REVIEW:
Food – 5  Spoons
Ambiance – 4 Spoons
Service – 4 Spoons
Taste – 5 Spoons
Chef Reilly's F.A.S.T. Review total = 4 out of 5 spoons!
Check out more recipes:
CheSave
Save
Save
Save
Save
Save
Save
Chicken Sausage Peppers Recipes Easy Dinner Ideas
Stay tuned for more reviews and recommendations! Got a suggestion? Drop me a line in the comments!
On The Road Eats, LLC
On The Road Eats & The F.A.S.T. Review with Chef Greg Reilly
­ You won't find a better authority on food than a Chef! Chef Greg Reilly has put together On The Road Eats, a one stop for all your culinary interests. Finger Lickin' Good Recipes…Easy, Original, Family and from other Chefs. Recipes that you can cook at home and are super easy with easy how to instructions and video. Cooking Shows…from Chef Reilly's own kitchen to restaurants and homes all over the world. The F.A.S.T. Review With all the choices out there, Chef Reilly will help you find places that will make your dining experiences unforgettable!
See Ya On The Road – Chef Greg Reilly
Chicken Sausage Peppers Recipes Easy Dinner Ideas
Save
[newsletter_signup_form id=1]